Favor renovar suas contas através dos banners aqui do site, para que o mesmo continue ativo!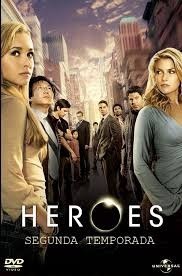 Informações Da Série:
Título Original
: Heroes
Título no Brasil: Heroes
Criador: Tim Kring
Gênero: Ação, Fantasia, Ficção Científica, Suspense
Ano de Lançamento: 2007
Duração: 45 Min
Qualidade
: WEB-DL / HDTV
Qualidade de Áudio: 10
Qualidade de Vídeo: 10
Formato: RMVB-MP4-AVI-MKV
Tamanho: Diversos Tamanhos
Ídioma: Português & Inglês
Legenda: Português (Embutida – Dentro da Rar)
Remasterização e Créditos: Petter
Jack Coleman … Noah Bennet 74 episodes, 2006-2010
Hayden Panettiere Hayden Panettiere … Claire Bennet 75 episodes, 2006-2010
Milo Ventimiglia Milo Ventimiglia … Peter Petrelli 69 episodes, 2006-2010
Masi Oka Masi Oka … Hiro Nakamura 65 episodes, 2006-2010
Sendhil Ramamurthy Sendhil Ramamurthy … Mohinder Suresh 63 episodes, 2006-2010
Greg Grunberg Greg Grunberg … Matt Parkman 63 episodes, 2006-2010
James Kyson James Kyson … Ando Masahashi 62 episodes, 2006-2010
Adrian Pasdar Adrian Pasdar … Nathan Petrelli 60 episodes, 2006-2010
Zachary Quinto Zachary Quinto … Sylar 61 episodes, 2006-2010
Ali Larter Ali Larter … Niki Sanders / … 57 episodes, 2006-2010
Cristine Rose Cristine Rose … Angela Petrelli 52 episodes, 2006-2010
Ashley Crow Ashley Crow … Sandra Bennet 41 episodes, 2006-2010
Jimmy Jean-Louis Jimmy Jean-Louis … The Haitian 32 episodes, 2006-2010
Favor renovar suas contas através dos banners aqui do site, para que o mesmo continue ativo!
Quando um eclipse total joga sua sombra ao redor do globo, um professor de genética da Índia (Sendhil Ramamurthy), guiado pelo desaparecimento de seu pai, acaba descobrindo uma secreta teoria — a de que pessoas com super poderes vivem entre nós. Um jovem sonhador (Milo Ventimiglia, "Gilmore Girls", "The Bedford Diaries") tenta convencer seu irmão político (Adrian Pasdar, "Judging Amy") de que ele pode voar. Uma cheerleader (Hayden Panettiere, "Ally McBeal") descobre que ela é indestrutível. Uma stripper de Las Vegas (Ali Larter, "Premonição"), que luta para sustentar seu pequeno filho (Noah Gray-Cabey, "My Wife and Kids"), descobre que sua imagem no espelho guarda um segredo. Um fugitivo da lei (Leonard Roberts, "Buffy, a Caça Vampiros") continua a confundir as autoridades, que por duas vezes foram incapazes de contê-lo. Um artista dotado (Santiago Cabrera), cujo vício em drogas está destruindo sua vida e seu relacionamento com sua namorada (Tawny Cypress, "Third Watch"), consegue pintar o futuro. Um infeliz policial de Los Angeles (Greg Grunberg, "Alias") consegue ouvir os pensamentos das pessoas, o que o coloca no rastro de um serial killer. E, no Japão, um jovem homem (Masi Oka, "Scrubs") desenvolve uma maneira de parar o tempo através de sua força de vontade. E logo eles descobrem que o destino deles será nada mais do que salvar o mundo.
Favor renovar suas contas através dos banners aqui do site, para que o mesmo continue ativo!
---

VERSÃO MP4 LEGENDADO:
Episódio 01: Mega
Episódio 02: Mega
Episódio 03: Mega
Episódio 04: Mega
Episódio 05: Mega
Episódio 06: Mega
Episódio 07: Mega
Episódio 08: Mega
Episódio 09: Mega
Episódio 10: Mega
Episódio 11: Mega
Todos os Episódios AVI Via Torrent + Legendas –
Download